Referenzen
Wir freuen uns Ihnen je nach Ihrer Themenstellung spezifische Referenzen unserer erfolgreichen Arbeit zur Verfügung zu stellen. Im Folgenden geben wir Ihnen über Auszüge Einblicke in Bewertungen unser Arbeit. Da wir auch international arbeiten haben unsere Kunden die Bewertungen in englischer Sprache verfasst.
IT Executive Director at US Bank, Headquarters New York:
Mr. Guthmann has a great understanding of our needs, including US-specific regulatory requirements and legislative environment. … He is a passionate leader who is analytical, perceptive and considerate.
Board Member of Top 5 German based Financial Group:
With his Drive and Enthusiasm, Mr. Guthmann is highly appreciated both on expert-/ management- up to C-Level. He shows a unique combination of professional skills, experience, and integrity with an excellent track record.
CEO of Outpatient Clinic with 5 Locations in the USA:
"G&G unlocked Cost Savings and Profit Potentials"
Horst analyzed our business and brought lots of valuable ideas. He worked out a business plan with concrete measures while involving key persons. After six weeks 75% of the improvements have already been implemented or are in works.
Vice President of leading German Omni-Chanel Retail Bank:
Horst Guthmann understands the Top Management Agenda, shapes pillars of strategic initiatives and is ensuring the successful implementation.

Head Physician at Reginal German Health Care Group with three Hospitals (>400 Beds):
Remarkable is Horst Guthmann's understanding for the different concerns of each group of affected individuals and the sensitivity he shows all stakeholders for their interests while guiding them towards common goals.
IT Executive Director of Insurance Group:
Horst Guthmann impresses with his professional competence, way of active listening and humorous touch. He ensures the complex tasks are understood and appreciated by relevant stakeholders in the senior management.
Executive Director Internationally operating Service Provider:
Horst Guthmann's focus is on understanding his clients and the specific requirements, guiding the organization to identify the most efficient solution, presenting it to decision makers and… solving the business issues of his customers.
Vice President of Health Care Finance Corp.:
Mr. Guthmann especially convinces with a great understanding of quality. He shows a high motivation and a great sense of responsibility …with enormous strategic overview accompanied by a great detail work. Mr. Guthmann is a very upright and pleasant person.
Über unsere Kunden
Unsere Kunden sind Dienstleistungsunternehmen aus der Finanzindustrie (Führende Banken, Versicherungen und FinTechs) sowie dem Gesundheitswesen (insbes. Krankenhäuser). Wir optimieren mit Ihnen die Wertschöpfung Front-to-End. Deshalb zählen auch Service Provider/ Insourcer und Tech-Unternehmen/ Systemlieferanten zu unseren Kunden.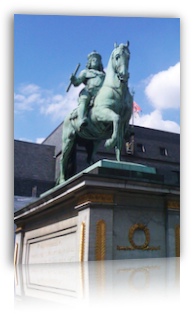 Wir verfügen über Referenzen in internationalen Wirtschaftszentren wie Frankfurt, New York, Zürich und London sowie in europäischen Metropolen wie Düsseldorf, Luxembourg, München und Berlin.
Die Leistungsfähigkeit des G&G Beratungsansatzes ist in zwei Jahrzehnten über ein umfangreiches Portfolio erfolgreicher Projekte nachgewiesen.
Die Auftraggeber der G&G sind Führungskräfte, die am Erfolg der Umsetzung von strategischen, bedeutenden Initiativen (Change) gemessen werden. Da sie auch Verantwortung für das Tagesgeschäft (Run) tragen, bleibt oft nicht ausreichend Zeit, sich für den Erfolg Ihrer Projekt einzusetzen.
G&G hilft Probleme dauerhaft zu lösen und steigert kontinuierlich die Akzeptanz für die erarbeiteten Empfehlungen. So haben wir die Chance, die Auswirkungen der erarbeiteten Lösungen zu verfolgen und regelmäßig ohne Rüstzeiten Entwicklungsstände aufzugreifen.
Ausgerichtet an der Entwicklung der Bedarfe und Problemstellungen unserer Kunden verfeinern wir unseren Beratungsansatz und entscheiden über inhaltliche Schwerpunkte für die zwingend erforderliche weitere systematische Spezialisierung.