Testimonials
We are proud to present recommendations of our clients on request. The following excerpts are showing a preview on insides in results of our work.
IT Executive Director at US Bank, Headquarters New York:
Mr. Guthmann has a great understanding of our needs, including US-specific regulatory requirements and legislative environment. … He is a passionate leader who is analytical, perceptive and considerate.
Board Member of Top 5 Germany based Financial Group:
With his Drive and Enthusiasm, Mr. Guthmann is highly appreciated both on expert-/ management- up to C-Level. He shows a unique combination of professional skills, experience, and integrity with an excellent track record.
CEO of Outpatient Clinic with 5 Locations in the USA:
"G&G unlocked Cost Savings and Profit Potentials"
Horst analyzed our business and brought lots of valuable ideas. He worked out a business plan with concrete measures while involving key persons. After six weeks 75% of the improvements have already been implemented or are in works.
Vice President of leading German Omni-Chanel Retail bank:
Horst Guthmann understands the Top Management Agenda, shapes pillars of strategic initiatives and is ensuring the successful implementation.
Head Physician at Reginal German Health Care Group with three Hospitals (>400 Beds):
Remarkable is Horst Guthmann's understanding for the different concerns of each group of affected individuals and the sensitivity he shows all stakeholders for their interests while guiding them towards common goals.
IT Executive Director of Insurance Group:
Horst Guthmann impresses with his professional competence, way of active listening and humorous touch. He ensures the complex tasks are understood and appreciated by relevant stakeholders in the senior management.
Executive Director Internationally operating Service Provider:
Horst Guthmann's focus is on understanding his clients and the specific requirements, guiding the organization to identify the most efficient solution, presenting it to decision makers and… solving the business issues of his customers.
Vice President of Health Care Finance Corp.:
Mr. Guthmann especially convinces with a great understanding of quality. He shows a high motivation and a great sense of responsibility …with enormous strategic overview accompanied by a great detail work. Mr. Guthmann is a very upright and pleasant person.
Our Clients
We deliver to leading companies in the financial sector (e.g. banks), healthcare (e.g. hospitals), utilities and governmental. We optimize their value chain front-to-end. Thus, service providers/ insourcers as well as tech industry/ system suppliers turn on us.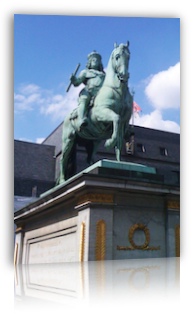 Our track record include references in metropolitan cities such as New York, Honolulu, Düsseldorf, Frankfurt, Munich, Berlin, Zurich, Luxembourg and London.
G&G's clients include leading executive managers whos' successes are determined by the results of the implementations of strategic initiatives (Change). As they are also responsible for daily business (Run), there often remains insufficient time for the projects they are accounted for.
Aligned with the development of the needs and problems of our customers, we 'fine tune' our consulting approach to make decisions relating to thematic priorities which are crucial to further the systematic specialization of G&G.